I study with child!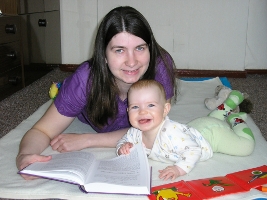 Dajana Porep
I'm studying business mathematics. By solving exercises together, I got to know the love of my life. During my pregnancy, we visited the Studentenwerk[Student Union] for information on financial support and special regulations for students with children. Students who do not take a leave of absence due to the care and upbringing of their child are entitled to a place in a crèche.
Otherwise, it is still possible to take examinations and study achievements during the semester. In addition, the university and the Studentenwerk[Student Union] endeavour to live up to their distinction as a "family-friendly university" and to expand their range of services. For this reason, for example, changing tables were set up and a play corner was set up in the cafeteria. Since the summer semester 2010 a "fringe time supervision" from 16-21 o' clock is offered for crèche and kindergarten children, so that one can also participate in late courses.
Our dream child was born at the end of the 8th semester. I use the 9th and 10th semester to take my final examinations and write my diploma thesis.
We never regretted the decision to have a child during our studies.