Interactions with Lattice Polytopes (September 14-16, 2017)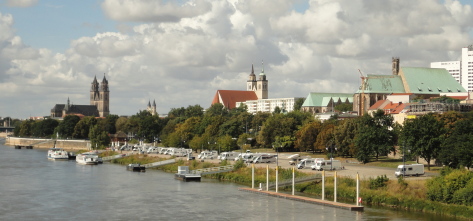 This will be a three day workshop at Otto-von-Guericke-Universität Magdeburg on lattice polytopes and their interactions with toric geometry, mirror symmetry, integer optimization, commutative algebra among others. One underlying theme of the workshop is how the interaction of these diverse fields with the area of lattice polytopes allows to reduce the complexity of difficult problems by transferring them to different settings.
We kindly ask all participants to register.
There will be a conference fee of 15 Euros. The fee will be collected during the registration on the first day of the workshop. Please try to bring the exact amount as we only have limited change.

Now you can download the program including maps and additional information!
Organisers
Speakers
The speakers of the three PhD talk slots are decided upon: Karin Schaller (Tübingen), Bach Tran (Edinburgh), Akiyoshi Tsuchiya (Osaka). Congratulations!
Current list of participants.
Tentative Schedule
The official program starts on Thursday and ends on Saturday. We encourage participants to arrive on Wednesday evening and leave on Sunday morning for more time to collaborate and socialize.
Here you can find the current (05.09.) list of abstracts.
Venue
The workshop will take place at Otto-von-Guericke-Universität Magdeburg in building 02, room 311 (3rd floor).
Address: Building 02, Universitätsplatz 2, 39106, Magdeburg.
Directions: To get to the university you can take one of the following tram lines (network plan):
from main station:

Leave the station through the main gate and pass through the shopping mall right opposite the main station. Cross the street and take tram line 10 at "City Carré" in direction "Barleber See". The station you have to get off is called "Universität".

from the city center:

Take the tram line 9 at "Domplatz/Volksbank", "Leiterstr.", "Goldschmiedebrücke" or "Alter Markt" in direction "Neustädter See". Get off at "Universität".

from Berlin:

If you take a train from Berlin, we suggest to get off at "Magdeburg-Neustadt". Either you walk down "Lüneburger Straße" to the university (approximately 10 minutes) or you can take a tram (lines 1, 9 or 10) at "Magdeburg, S-Bahnhof Neustadt" (in direction "Sudenburg", "Reform" or "Alter Markt" respectively) and get off at "Universität".
From the tram station "Universität" it is just a few meters. Please have a look at the interactive map of the campus.
Accommodation
We will book hotel rooms for the speakers. We kindly ask all other participants to make their own lodging arrangements. The sleep & go Hotel Magdeburg (cheap and close to the university), the Hotel Ratswaage Magdeburg (more expensive and close to the city center) and the artHOTEL Magdeburg (in the famous Hundertwasser building in the city center) are offering us group rates. Please register in order to benefit from the group rates. Other hotel options are the InterCityHotel (close to the main station) and Motel One (in the city center).
Travel Information
By Rail
The simplest way to get to Magdeburg from most locations in Germany is by train. You may check train routes and timetables through the website of Deutsche Bahn.
By Air
The closest major airports are Berlin-Tegel (recommended) or Berlin-Schönefeld. Other possible airports are Flughafen Hannover-Langenhagen or Flughafen Leipzig/Halle. Instructions on how to get to Magdeburg from each airport:
From Berlin-Tegel:

Take a bus line 109 in direction "Zoologischer Garten". Get off at "Kaiser-Friedrich-Str./Kantstr." and walk to the rail station "Berlin-Charlottenburg" which is just a few meters. From there you can take a direct connection till "Magdeburg Hbf".

From Berlin-Schönefeld:

From "Berlin-Schönefeld" you can take a train till "Potsdam Hbf". Get off there and take another train which will bring you directly to Magdeburg.

From Hannover-Langenhagen:

Take an S-Bahn "S 5" from the airport. Get off at "Hannover Hbf" and take a train which will bring you directly to Magdeburg.

From Leipzig/Halle:

From this airport there are several possibilities to get to Magdeburg depending on the time you arrive. Please check the website of Deutsch Bahn to find the best route for you.
Sponsors
Funding for the workshop is provided by the EPSRC Fellowship EP/N022513/1 and Otto-von-Guericke-Universität Magdeburg. This workshop will take place in the framework of the DFG Research Training Group on Mathematical Complexity Reduction at the Otto-von-Guericke-University Magdeburg.